Contursi Family Portrait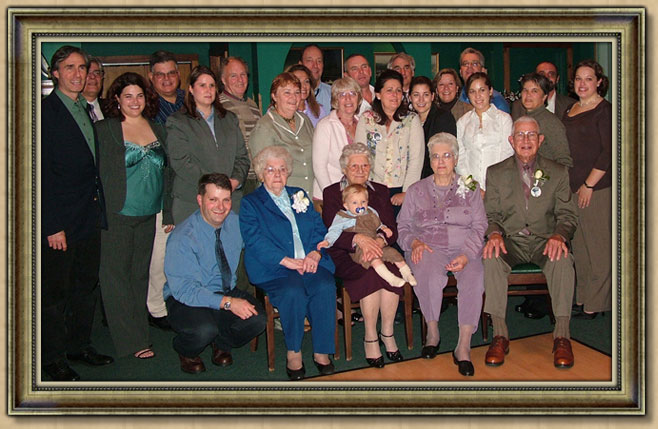 Top Row:
Tom Contursi, Steve Contursi, Amy Contursi, Joseph Contursi, Christine Contursi, Mike Rodak, Geraldine Contursi, Annie Otten, Peter Otten, Gracie Panessa, Jeff Espie, Marie Espie, Bobby Contursi, Lisa Contursi, Nancy Contursi, Katie Kardas, Stanley Kardas, Karen Kardas,
Joe Panessa, Sarah Kardas
Bottom Row:
Justin Contursi. Caroline Panessa, Mary Contursi, Adien Contursi, Rose Kardas, Lenny Kardas
---
Reunion Committee

Steve Contursi, Joe Contursi, Marie Espie, Tom Contursi, Gracie Panessa, Bobby Contursi, Annie Otteni, Joe Panessa, Kardas, Stanley Kardas

Oldest and Youngest Contursi
Aiden Contursi (8 Months),
Caroline Panessa (89 Years Young)
DAY HIGHLIGHTS
---
2:00p.m. A Mass Celebration Honoring The Contursi Family
Our Lady Of Mount Carmel Church, Poughkeepsie, N.Y.

Celebrant: Father Peter Kihm
Concelebrant: Father Richard LaMorte

This Mass was held to Celebrate the Contursi Family and our patronage to Mt. Carmel Church and to honor those that are no longer here: Giuseppe & Maria Contursi, Luigi & Maria Contursi, Thomas Contursi, Margaret Contursi, Louis Contursi, Stephen & Theresa Contursi, Anthony Panessa and Donald Panessa.

To View A Transcript of The Mass Click On The Image of the Missal.
---
5:30p.m. Reception (Dinner, Dancing, & Celebrating the Contursi Family)
Cappucino Bistro , Poughkeepsie, N.Y.

Here we dinned, danced, and just celebrated our family. Stanley Kardas designed a family tree and slide show to showcase our family through the years., It was really nice to see how we have all changed and see photos of people who have passed or couldn't make it. It was a blast and it was really nice to see everyone in a celebratory setting rather than gathering for a death or sickness in the family. Hopefully this will be a more frequent tradition.

Want to see more Images of the Contursi Celebrating Our Family click on the albums to the right --->

My Album

Steve Contursi's Album

| | |
| --- | --- |
| | Would you like to read more about our Reunion check out my an excerpt from my journal on Aiden and his debut as the Youngest Contursi.Click On the Journal Icon To Your Left |
---
BACK TO FAMILY PAGE