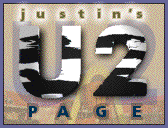 Download The Latest
Version of Kaleidoscope

---

U2.COM

- This is U2's Official site here you can get the latest new, tour dates, history and much much more if you want it they have it here!!

U2 LOG.COM
| | | |
| --- | --- | --- |
| | | - Here You can Find the Most Up-to-date Tid bits on U2 from news, Mp3 and Much much more. |

@U2.COM



- Here You can Find the Most Up-to-date News On U2 and Related Stories as well as Subscribe to a Weekly Email that higlights the News of the Week.

U2 EXIT.COM


- Here you will find Windows Media, and Real Player files of the latest video, music, and interviews along with news and pictures.

U2MP3s.COM


- The Ultimate site for any U2 fan. If your not already a member your missing out on one of the most comprehensive and coolest site for everything U2. You just have to go there to believe it.

AchtungBootlegs.com



- A Guide to U2 Bootleg Compact Disks and DVD's and there qualities and overall ratings.

AchtungBootlegs.com



- A Collection of U2 Bootleg Linear notes and Jewel Case Designs.

For Love Or Money



- A Guide to U2 Bootleg Compact Disks and there quality.

The U2 Guitar Archive

U2 Facts



- Interesting Facts and Information on U2.

U2tours.com



- Everything you wanted to know about any concert of U2 is here. This site is great includes: set lists, pictures, reviews This site is awesome.

U2TicketStubs



- A new site trying to create the most extensive online record of U2 concert memorabilia; U2 concert tickets, setlists, concert posters, flyers and handbills, etc.

musicfoto.com



- Is an interactive gallery featuring thousands of original classic rock, heavy metal and pop music photographs. In concert and backstage, from Springsteen to the Rolling Stones, from David Bowie to Peter Gabriel to John Lennon, and from Sting to U2 to Metallica, and more!

Unforgetable Fire (Tribute Band)



- Can't get tickets to see U2 on tour? Still want to see them preform there new songs live? Well this is the next best thing if you live in New York or the Tri-State Area and you like U2 you must go see this tribute band, You'll think U2 were back playing in the small venues minus the bad hair.

The U2 Banner Exchange

- A good Site to link up with other U2 fans and there website dedicated to U2 as well as a place to show of your own U2 site.

Anna Rita Centura U2 Prints



- Anna Rita Centura is an Italian Artist with a passion for Drawing Images of the band U2.

U2Emporium



- Is a way for fans to access a large collection of live concerts hosted each month. Also included is a collection of U2 memorabilia for you to browse and images taken during the Elevation tour.

The U2 Page
- A good Site that contains Info about the Band, Guitar and Bass Tabs, Lyrics, Chat MP3, Tour Reports, and Hidden Message behind the Groups Music

Henry Wagners Zoo T.V.
- A Web Site Containing Picts, Lyrics, News, Audio clips and Much More.

U2 Desert Sky
- You Will Find a Collection of Pics, Song Lyrics to the Albums and Some Midi/Sound Files.
---

Welcome To my Web Page Dedicated To the Irish Rock Band U2. Here you will find Fine Art, as well as computer Interface Art that I've created. In addition there is some of my favorite links to other U2 sites.


"LIKE A RHYTHM UNBROKEN, LIKE DRUMS IN THE NIGHT, LIKE SWEET SOUL MUSIC,
LIKE SUNLIGHT, I NEED YOUR LOVE."
-HAWKMOON 269-


Click Image to see Enlargement
"Every Artist Is A Cannibal"
1994, Pencil, Lithocrayon, Charcoal, Size: 12'5" x 40"
Kalidescope Schemes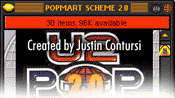 Icons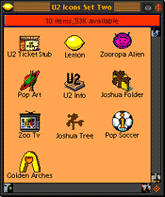 Download These Icons

U2 Icons Set One (11k Machintosh BinHex Format)
Include 13 Icons of the Fab Four Irish Lads.

U2 Icons Set Two (11k Macintosh Binhex Fomat)
Contains 11 Icons Of U2 Items and Objects that are Synonymous with the Group.
These patterns are for PERSONAL USE ONLY!! Although I designed some of these patterns I found most of them on the internet and you could check out some more cool designs at goateestyle. I offer these downloads, because as an artist I thought they were well done and thought they should be shared, not to profit or allow someone beside the designer to profit from these.

---

TO SEE MY PUMPKINS CLICK HERE.

---
How long have you looked for that perfect U2 sticker for your car? Well look no more! I have purchased stickers for my own car here and I have got to say, "That they last the life of your car, are well designed and are a perfect accent to any U2 fan that wants to show there true colors."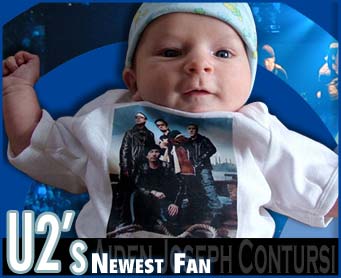 Aiden Joseph Contursi, was born on February 9, 2006
I recieved this outfit from one of our friends during one of my wifes shower. I couldn't resist putting him in this and taking a bazillion pictures. Also Aidens first song he heard after he was born was "All I Want Is You". Lets just hope he falls in love with U2 like his Mom and Dad!

I HAVE 3 GALLERIES OF PICTURES: ONE GALLERY DRESSED LIKE THE EDGE THE OTHER DRESSED LIKE BONO AND FINALLY GETTING READY FOR THE 360º TOUR ENJOY ! ! !